Today was going to be a full day! There were several things we wanted to see and trails we wanted to do. So we ate breakfast, packed some snacks, grabbed our masks and hand sanitizers, and headed out. We left the lodge around 9:30am and we thought we started the day early but not early enough! The road to the entrance gate was super backed up! It's a single lane road all the way into the Park so we were stuck in it for over an hour! Once you get closer to the gate, there is a second lane for people who already have a pass so to make it a bit faster, I would recommend purchasing the pass before heading to the Park.
We decided to Hike the Moro Rock and on the way, we first saw the Tunnel Log. Follow signs for Moro Rock and you should see signs that points towards the Tunnel Log so keep going. The drive thru for the Tunnel Log had a huge line so we decide to walk it. If you really want to drive through it, there is a bypass around the log. So many cars were waiting in line to get ready for videos and pictures.
There were also several people climbing up top of the log and taking pictures. I didn't see any signs prohibiting the action but do be careful and follow signage.
Other than the Tunnel Log, the area had a short trail and some large redwoods! And they were impressively tall! I couldn't get the photo in one go so I tried a panorama shot. It looks so much better in person 🙂 Just being next to the trees made me feel so small and it made me appreciate nature more.
After walking around and admiring the trees, we headed back to our car and drove over to Moro Rock. It is very close to the Tunnel Log and the drive through the forest was really nice.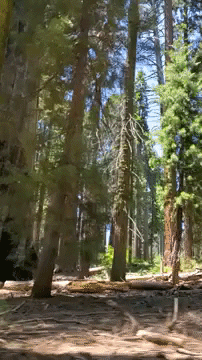 The parking lot was really small and was already packed but you can park on the side of the streets. This must be a popular spot since we started to see packs of people. Most of them were wearing masks which made me feel slightly better. There were Covid related signs so please follow the signage! Moro Rock is a staircase hike that is narrow so if you want to social distance yourself, this is not for you!
I don't mind stairs that much so I was excited for the hike but only about 15 minutes in, I realized that I was so out of shape! There are several "rest area" on the way up and I took full use of them. Some part of the stairs had railing and others didn't so just be careful when other people are around. Also, as I mentioned, parts of the trail are super narrow and zigzags. Meaning only one person can pass at a time. So be mindful of people heading the opposite direction of you.
Once that the top, you get a great panorama view of the Park and it made the hike worth it. There weren't a lot of people at top and most of them were wearing masks. I did notice people taking off the mask for just the picture and putting it back on. People were being mindful of each other and being considerate. We were all able to enjoy nature together.
The hike down was easier but again, we had to be careful of the hikers coming up. If there is traffic headed your way, wait a couple seconds for everyone to pass before heading forward. Courtesy goes a long way on these narrow hikes.
There is a bathroom at the start of the Moro Rock trail if you need to use the bathroom. Make sure to take hand sanitizer/wipes with you. The people in line were social distancing and there were signs on the round indicating where to line up.
After the hike, we decided to head back to our lodge to grab lunch and go to the recreation park nearby. We saw people swimming and jet-skiing so we wanted to check it out. It was called Kaweah Recreation Area and there were lots of tents, people swimming, jet-skis, and more. The water wasn't as cold as I thought it would be. Actually, it was rather lukewarm (meh) but my family had a good time here. My dad didn't want to go in so he just dipped his feet and watched people on their boats (you can see a part of a boat on the right side)
My brother and SIL brought their dog Kai and he didn't want to swim at first. I think it was his first time swimming? He wanted to escape so bad but he got used to being in the water on one condition. That his favorite ball was also in the water with him.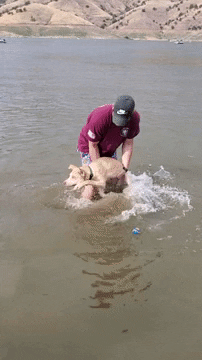 After playing in the water for a bit and using all our energy, we headed back to the lodge. We relaxed until the sun went down and headed out to see the stars. This was around 11pm and it was dark enough to see the starts with your own eyes. The one that was clearly visible was the dipper. Sorry for the picture quality. My camera isn't the best for night time photography. But you can still see the dipper on the left side 🙂 We watched the stars quietly for about 30 minutes and headed back to the lodge and passed out.